Profit with High-Quality
Business Lists for Sale
We'll help you build targeted business email lists and phone lists in seconds, so you can reach more prospects and boost your sales while expanding your company's reach.
Try it before you buy. No credit card required.
Book a Free Consultation with a MEGALEADS Business Sales List Specialist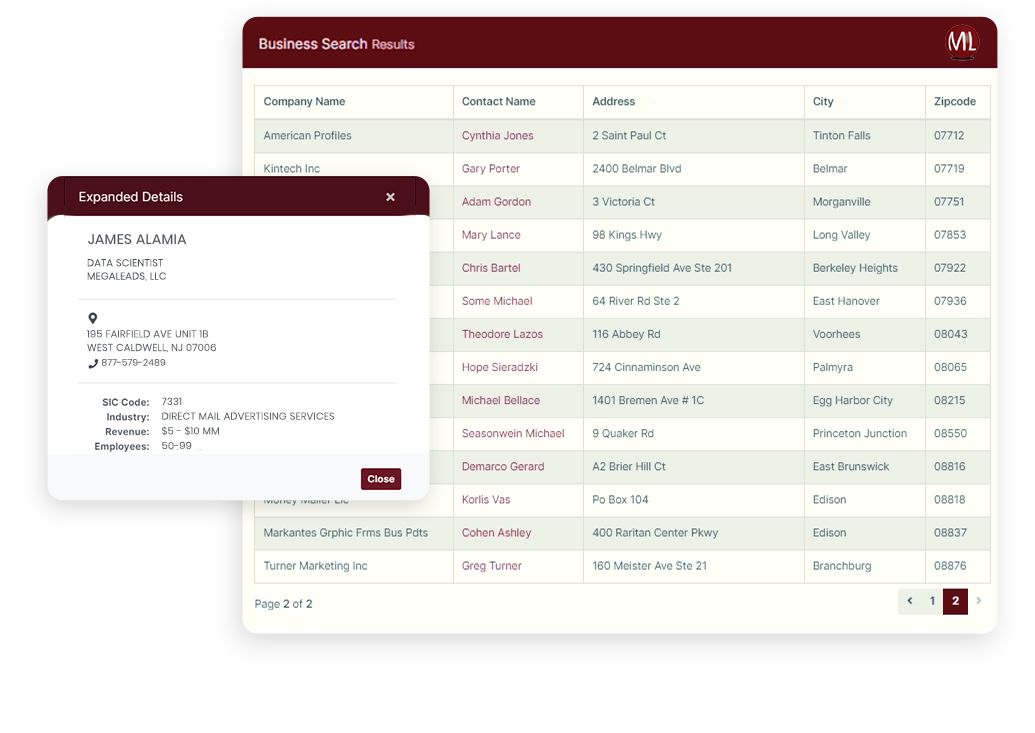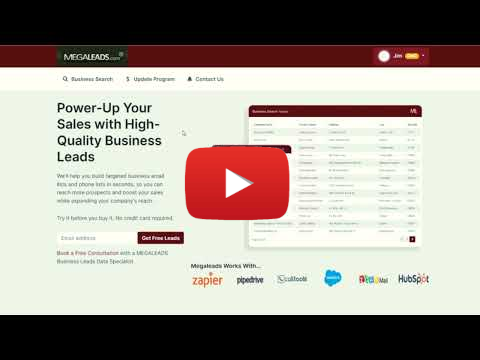 The Best Business Lead Lists of 2023, Try the New and Improved Megaleads 2.0.
Are you looking to generate more sales leads than ever and build the best and most profitable lead list database? Then, don't look elsewhere: Megaleads has the tools you need to turn your vision into a reality
With our product, buying business email lists and phone number list has never been easier or more affordable. Zoom into the right audience and connect with the right business lists for sale to close deals faster and skyrocket your sales.
Check out the video. This is our new and improved Megaleads 2.0 business sales list search tool with enhanced features, designed to make you a better, smarter marketer and sales hunter.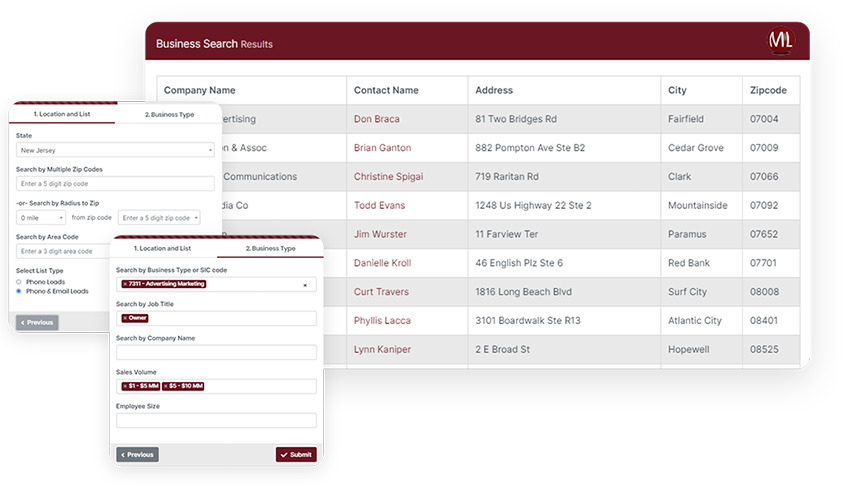 The Truth About Buying Business Sales Lists
If you run email or outbound phone campaigns, you know all too well that you need a sizeable amount of data to fuel your activity.
For example, if you are making outbound calls on a dialer solution, you are going to need more than 1000 business phone numbers every day for each one of your reps to support your phone campaigns.
With email campaigns, this number soars: you are going to need to provide your reps with at least 5000 to 10000 business email addresses if you want the campaign to yield good results.
Just by doing the math quickly, you will immediately realize that you can't afford to spend 0.15 to 0.50 cents per name. That's simply not sustainable, and it won't allow you to achieve the ROI that you are aiming for.
That's why you should choose Megaleads. At Megaleads, we offer you the LOWEST prices for your sales lists so that you can get as many as you need to run your campaigns, without breaking the bank.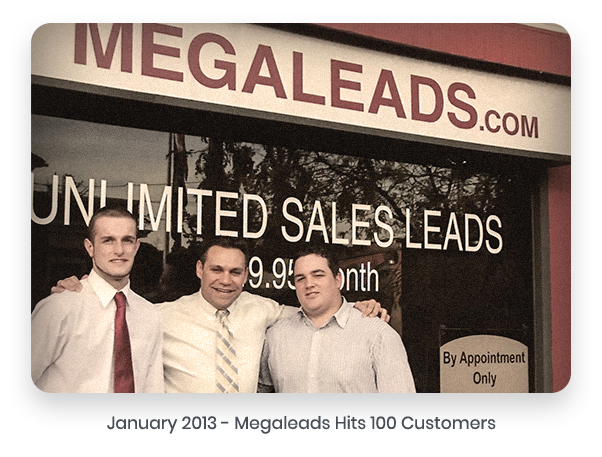 About Our Company
Megaleads is the brainchild of founder Jim Alamia, a Marketeer who has been working with technology since he was a teenager. Jim remained very interested in electronics throughout his life, and he began to develop computer programs and sell products, website marketing services, and business lists at the birth of the internet.
After graduating in Mathematics from Pace University, New York City, Jim went on to build Wall Street financial trading execution and global clearing systems for more than a decade. This led him to work for enterprise companies like Citibank, Nasdaq, Pershing, and Bear Stearns.
During this time, Jim understood his passion for technology innovation, coupled with his sales and marketing, could be a great combination to create something amazing. That's when he decided to take a big leap of faith and build the Megaleads business leads list automatic system.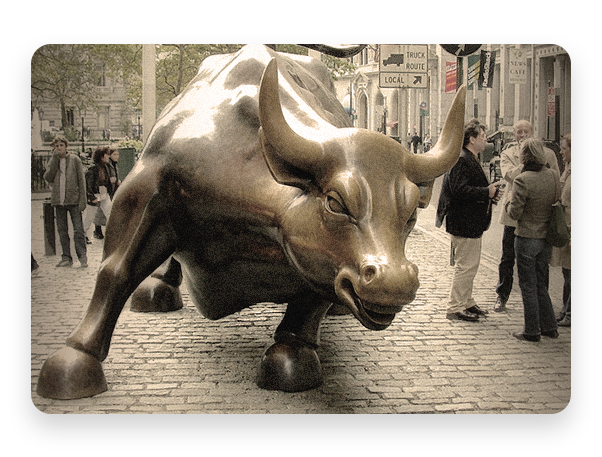 The Megaleads team is focused on simplifying complex technologies and translating them into simple, practical, and profitable turnkey business sale lists solutions. Megaleads was created in 2011 and is the result of marketing and SaaS data-based systems that were built during the 2000s. With Megaleads, the team focuses on delivering the best possible customer experience through the greatest value in the industry provided by powerful and accurate business lists for sale.
The Megaleads team has grown substantially throughout the years with the help of dedicated investors, staff, and vendors. The team is composed of business innovators, software and database engineers, and a dedicated sales and support staff. Our goal is to help make your business more profitable and successful by providing the highest quality business sales lists, business email lists, and lead generation services at the absolute lowest price.
The more businesses and professionals we can help grow, the more people will be employed and the better everyone's life will become. The business benefits, the employees and vendors benefit the community benefits, and our nation and world benefit.
Choose Megaleads and Never Look Back
At Megaleads, we have spent more than 20 years developing our signature, in-house product, and we don't have the fixed costs that large data companies have. Meaning? We can provide the most competitive rates for B2B data EVER.
Stop spending money "you don't have" on leads that don't work. Spend less, gain more, with Megaleads.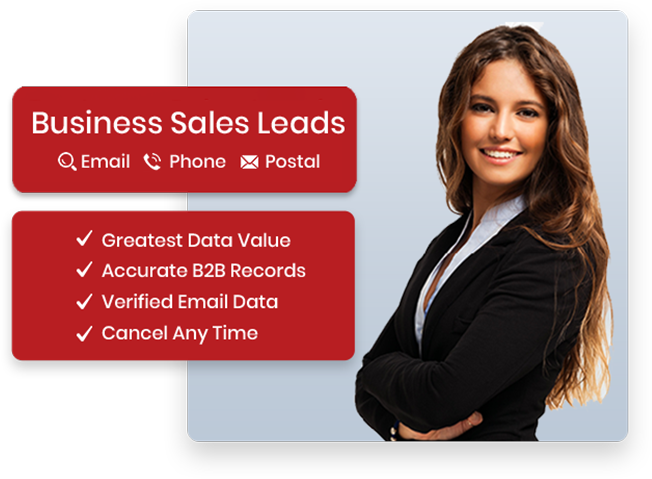 Customers Are Talking...

"At Demand Marketing, we have used Megaleads for several years and can say they have been a fantastic partner for us and our call center efforts. Their customer service is reliable and most importantly, their data has always been among the best available. Our call center uses about 750k unique records a year and we look forward to our continued relationship with Megaleads for years to come"
Joe Narkin,NJ

"Great company to work with. Business sales lists are very good and the company responds fast. Plus I got a few extras to boot. Remember, in the lead business no one can expect perfection as there are too many variables at play. I own a large credit card processing company and we've used other lead providers, none to date have been as good as Megaleads. Plus John is great and fast to get back to questions when asked and we'll be customers for a long time as a result."
Mike A.Laveen, AZ

"These guys do a fantastic job. The business email list data we get is accurate and I can always count on Jim and his b2b technology to deliver. The verified B2B emails really working for us and the price is right in line with expectations. I recommend!"
Valeria H., New Hope, CT

"Great quality data, awesome for appointment setting and direct sales. Jim has the best business email lists in the industry, if you plan on doing cold email make sure you get your names from these guys. Major asset for our sales team. Thx."
Pete Polgar, Montclair, NJ
Ready To Start?
Making your marketing and sales funnels work takes time and expertise. The Megaleads team has performed lead generation for thousands of businesses and knows exactly what it takes.
Give Us a Try, You Have Everything to Gain